1. Introduction
Achieving low latency is critical to a great inking experience on the web. Generally, inking on the web involves consuming PointerEvent events and rendering strokes to canvas, WebGL, or even SVG.
While there are currently progressive enhancements available today, such as getPredictedEvents() and Desyncronized canvas, none of these take advantage of system compositors provided by the operating system to achieve better latency. Operating system compositors typically introduce a frame of latency in order to compose all of the windows together. During this frame of latency, input may be delivered to an application but the application will not be able to update the rendered frame with this new input until the next frame. System compositors may have the ability to handle this input on behalf of the application and update the current frame accordingly. The purpose of the Ink API is to expose this functionality of the system compositor to web applications as a progressive enhancement option that can achieve latency parity with native applications on supported systems. It is not a replacement for the existing progressive ink enhancements already in existance, but provides another option.
2. Scope
3. Ink API
3.1. Introduction
In order for the system compositor to be able to draw the subsequence input points with enough fidelity, the application needs to describe the last rendered point to the compositor. If the system knows the last rendered point, it can produce segments of an ink trail for pen input events that have been delivered to the web application but have not been rendered yet.

For example, consider an application that has rendered all ink strokes up to the current frame of input: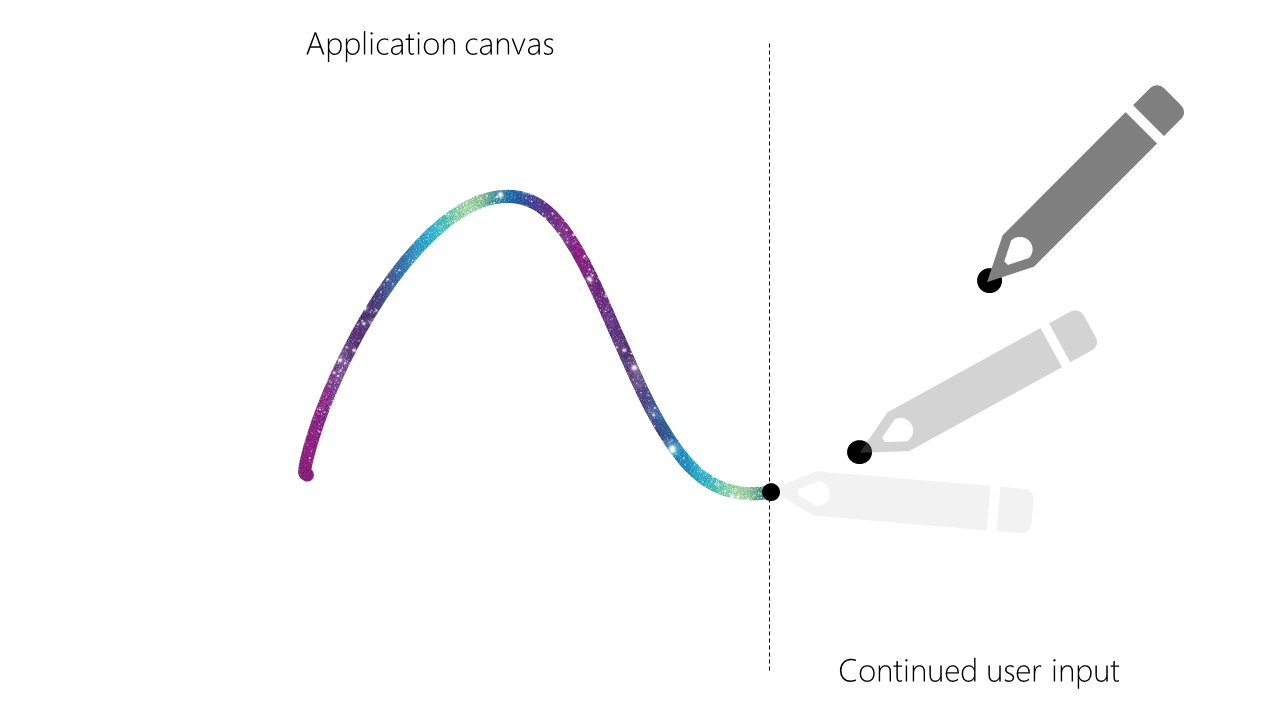 Here, the pen has continued to move on the digitizer, but the application has not had a chance to process this input for rendering. To achieve a "superwet" inking experience, the system compositor needs to overlay ink segments for these inputs: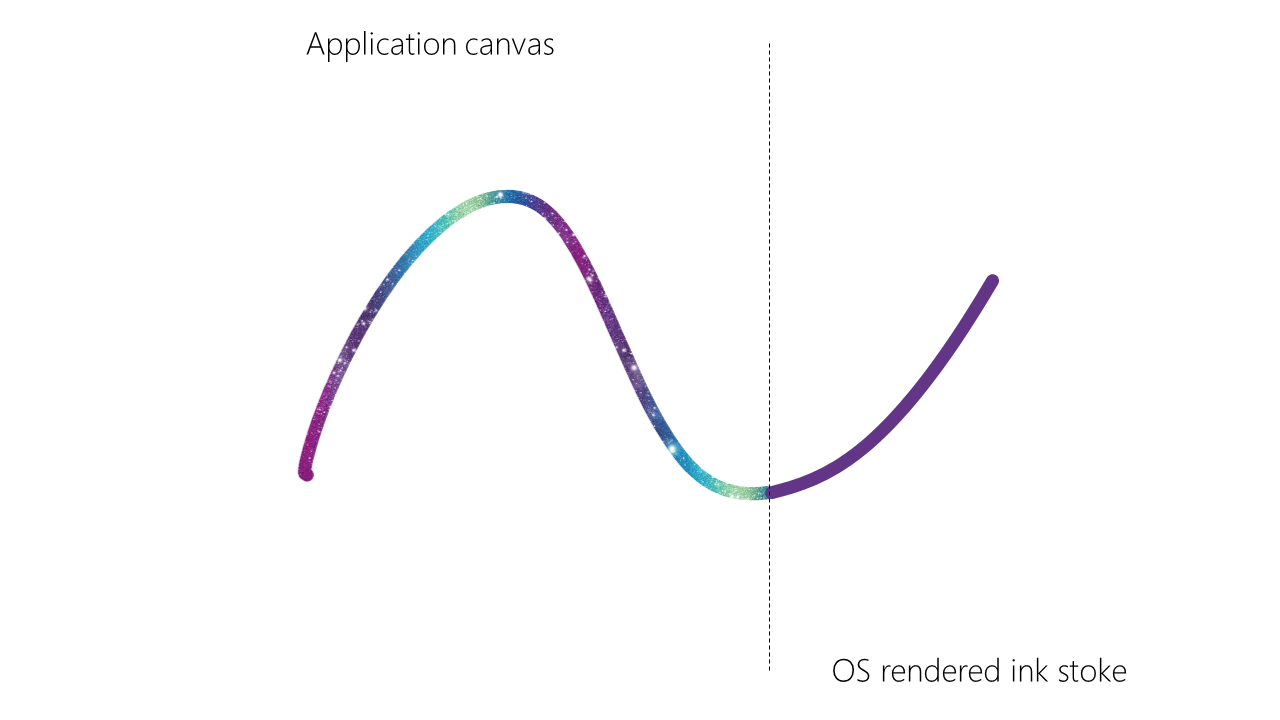 When the PointerEvent is delivered to the web application, the application can seamlessly replace the system compositor ink with application rendered strokes and update the compositor on the last event point that it rendered: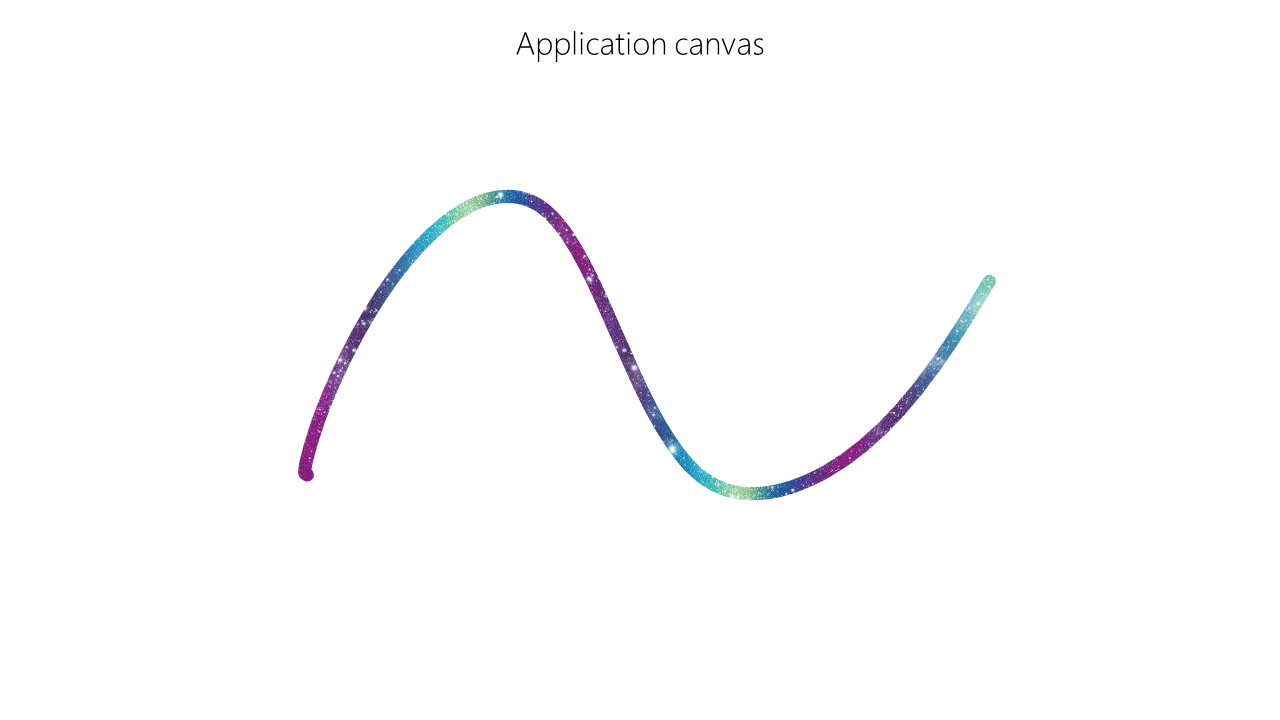 The Ink API provides the InkPresenter interface to expose the underlying operating system API to achieve this and keeps the extensibility open in order to support additonal presenters in the future.
3.2. Ink interface
interface Ink {
    Promise<InkPresenter> requestPresenter(
        optional InkPresenterParam? param = null);
};

dictionary InkPresenterParam {
    Element? presentationArea = null;
};

[Exposed=Window]
interface InkPresenter {
    readonly attribute Element? presentationArea;
    readonly attribute unsigned long expectedImprovement;

    undefined updateInkTrailStartPoint(PointerEvent event, InkTrailStyle style);
};

dictionary InkTrailStyle {
    required DOMString color;
    required unrestricted double diameter;
};

3.6. Ink Navigator interface extension
This partial interface defines an extension to the Navigator interface
[Exposed=Window]
partial interface Navigator {
    [SameObject] readonly attribute Ink ink;
};

4. Usage Examples
const MIN_EXPECTED_IMPROVEMENT = 16;

function renderInkStroke(x, y, canvas) {
    // ... Render an ink stroke to the canvas ...
}

try {
    let canvas = document.querySelector("#canvas");
    let presenter = await navigator.ink.requestPresenter({presentationArea: canvas});

    // With 'pointerraw' events and JavaScript prediction, we can reduce latency by 16ms, so
    // fallback if InkPresenter is not capable of providing a benefit.
    if (presenter.expectedImprovement < MIN_EXPECTED_IMPROVEMENT) {
        throw new Error("No expected improvment using InkPresenter over prediction.");
    }

    window.addEventListener('pointermove', function(event) {
        // Render all of the points that have come from the queue of events.
        let points = event.getCoalescedEvents();

        points.forEach( p => {
            renderInkStroke(p.x, p.y, canvas);
        });

        // Render the ink stroke belonging to the dispatched event
        renderInkStroke(event.x, event.y, canvas);

        // Update the presenter with the last rendered point and give it a style
        presenter.updateInkTrailStartPoint(event, {
            color: "#7851A9",
            diameter: event.pressure * 4
        });
    });
}